Engineering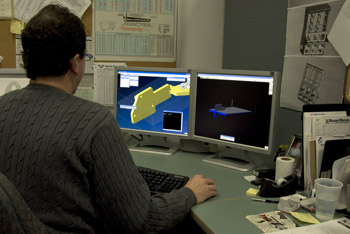 The highly skilled, experienced team at Production Engineering Corporation can work with you on design refinements to improve the manufacturability of your products. Utilizing our concurrent engineering services during the product development stage will ensure effective use of the best manufacturing practices.
Our concurrent engineering services are available for all LRP, FRP, R&D, and prototype production projects. If your product is nearly production-ready, but you've not yet locked in your final designs, we are available to help you perfect those designs for better manufacturability.
We can work from digital designs in numerous formats, including:
Pro/E
SolidWorks
CAD/CAM
Virtual Gibbs/Programming
IGES, DXF & CATIA Input/Output
FTP
and others
Combined with our turnkey manufacturing capabilities, our engineering consultation services provide for faster, more efficient production, saving you time and money in the process. Contact Production Engineering Corporation to learn more about our concurrent engineering services and how they can improve your products.